Sauvignon, the grape variety used for our white wines, is harvested when fully ripe, once the grapes have taken on their golden hues and have become pigmented with small black berries.
We seek in our wines the taste of the ripe grape, one of the characteristics of Sauvignon that we particularly appreciate. To achieve this, we avoid as much as possible having too much varietal aromas which can be unpleasant (an excessive boxwood aroma can be disgusting and does not reflect the taste of the ripe Sauvignon).
The grapes are harvested either mechanically or manually. In both cases, the priority is to press the grapes as soon as possible after picking: a maximum of 2 hours waiting time is the limit we have set ourselves.
An equipment of 3 presses and regular shuttles between the vineyard and the cellar allow us to reach this objective. As soon as the grapes are pressed, the juice flows by gravity into stainless steel tanks located on the lower level of the presses.
We avoid the use of pumps in order to preserve the quality of the must. The must is refrigerated at a temperature of 10°C. The juice clears naturally. The clear juice, separated from its impurities (the must), is then transferred to the bottom of the tank.
The fermentation can begin. To do this, we use either the indigenous yeasts naturally present on the grapes or yeasts selected for their fermentative quality. This allows us to produce wines with different profiles that blend perfectly in our blends.
Our wines are then racked after fermentation and aged on fine lees for 4 to 6 months.

Pinot Noir, a grape variety used for red and rosé wines, is generally earlier than Sauvignon.
Mostly vinified in red, the harvest is manual to preserve the integrity of the bunches and to be able to sort them if necessary directly on the vine.
The grapes are crushed but left whole and put in vats for the alcoholic fermentation. The fermentation lasts 7 to 10 days to obtain light and fruity wines.
Two daily pump-overs are carried out. This is done for a short period of time to preserve the fruity character of our red wines by extracting only a few tannins. This traditional practice in the Loire Valley allows us to obtain wines that can be drunk young (6 months after bottling).
However, they can be kept for 5 to 6 years depending on the vintage.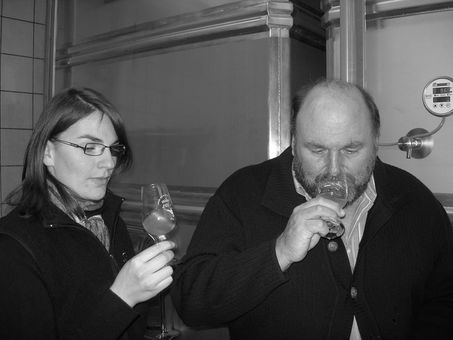 L'ABUS D'ALCOOL EST DANGEREUX POUR LA SANTÉ, À CONSOMMER AVEC MODÉRATION.
Interdiction de vente de boissons alcooliques aux mineurs de moins de 18 ans
La preuve de majorité de l'acheteur est exigée au moment de la vente en ligne
CODE DE LA SANTÉ PUBLIQUE, ART. L 3342-1 et L. 3353-3